Hi all. I'm still here. Just was sick all week, and just....I've been feeling...odd. I don't know. It feels like such a weird place to be in. Pregnant infertile. It still doesn't feel real. Stuff with Sister still hitting me hard, the teenagers still living here, just...I'm emotionally weird right now. Plus sick. So, I got caught up on you all today, and I'm not going to try and sort out the brain right now.
However, it's time to jump into some Photo stuff! I got an Honorable Mention in
The Punk Rock Mom's
first photo contest. So here's my button for that :)
Now it's time for the 2nd challenge :) This week's theme is ALL THE SMALL THINGS. Go
here
for the details!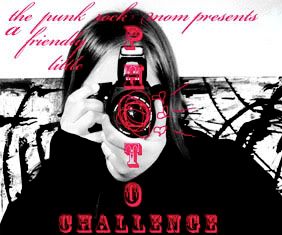 Up to 3 entries are allowed, so here goes :)
A small moment of my life...at the spreading of my grandparent's ashes.
I just love this fly photo. I couldn't believe it held still for this! The colors, the detail! LOVE IT!
This is a close up of the inner workings of a tulip :) Flower parts are fascinating!


So, there you have it. I promise to get back to regular postings and to try and stop having breakdowns...I miss my happy meds. LOL. Maybe the OB will clear me to go back on them soon.
Have a good weekend!