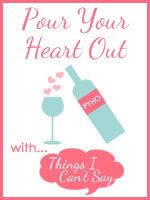 I have
GAD
. Well, it depends on the doctor. Some have said depression + anxiety. One even said possible bipolar. I have some pretty serious highs and lows. Some days I think the depression is the worst part of it. It also comes with some OCD tendencies. But really, the worst is the anxiety.
I know many of us suffer from this, but for those of you that don't, I wanted to give you a glimpse into how the anxious brain, at least for me, functions.
Example: We put up the first of the cool baby gates. Metal with bars and a door that swings open. Most would look at it and see safety. I looked at it and saw my cats lying with their heads through the bars with their neck broken. The image doesn't go away.
Walking down my stairs with the baby is terrifying. My mom won't do it. I have no choice. But what I see every time is me slipping and falling and P's lifeless body under me at the bottom. I am a klutz. This is not a stretch. I need a house without stairs.
While driving I see myself going out of control and smashing headlong into a telephone pole or tree or something, totaling my car, and being seriously injured. Worse, I see us being t-boned and P being seriously injured or killed.
And on and on...you get the idea. I look at normal things and see the worst. And a panic attack? Hyperventilation, shaking, what I call "tunnel vision"...rational goes out the window. The good thing is that years ago I finally saw a doctor. And last year we figured out what works for me. Thank goodness. Stressful jobs do not help, though. With the meds, though, the things I imagine are able to be pushed away some. I have a little more control.
As a bonus, they actually do help with the depression and my excessive empathy, leaving me to watch movies without turning into a blubbering mess over every little joy and sadness. Seriously, I have been known to cry at cotton commercials. The downside? Feeling kind of numb. Not always being ABLE to cry if I want/need to. But, being able to handle situations better? It's worth it. Most of the time.
I know from experience that some people don't believe that something like this is a "real" disease. It is. And its effects can be devastating. I missed 6 weeks of work last year when it was out of control. It is VERY real, very scary, and sometime debilitating. And when someone suffers, you can recommend things all you want, but in the end, like many things, a person has to want to have help. It cannot be forced. So please, be supportive to people in your life suffering from mental health diseases. Listen when they need it. Encourage them to seek help of whatever sort works for them. But understand that sometimes, our reactions, our behaviours are out of our control.
*This is part of Shell's Pour Your Heart Out Wednesdays. Feel free to join in, but be respectful.