There are so many magic moments in life. I wish I could post them all here! But alas! I have to limit myself.
Link up with Shell to see others' Magic Moments (and maybe win something, too!!!)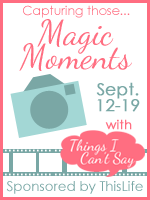 A typical evening in Okovimburu. More special to me than you would believe.
Sunset in the Grand Canyon, day 2 of our honeymoon. One of the
most amazing things I have EVER seen. Even with a concussion!
The first time I met the children I would work with in Okovimuburu. I was
their first white person.
The first time I packed and pulled my own chute
while skydiving - "oh, good, it worked!"
A magical afternoon amongst the sunflowers along Rt 14 in
South Dakota. Caught my mom unawares.
Our first family photo.
The first time I held my tiny boy.
What are your magic moments? Link up and share!