I love doing PYHO...it's a way for me to say things that I am honestly terrified to put out there, even here. Things that weigh heavily on me...Thanks, Shell for the opportunity!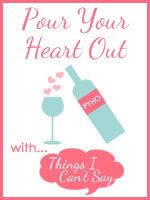 The time has come to make a decision: To store the embryos or not to store the embryos. Peanut's sibling have hit their 1 year anniversary...meaning no more free storage.
Hubby wants to keep them. And, I think, so do I. I THINK.
Nevermind that with Hubby having not been working, we can't afford bills and rent, now we have to come up with money for that?
Sister asked me how we can possibly afford another attempt, much less another child. Never mind that it annoyed me. Do you ask your pregnant friends that? Probably not. That's a different story though. Anyway, yes, this is something I worry about all the time.
We struggle. A lot. And somehow always figure it out. We could certainly cut more out. And if needs be, we will. People figure it out, right? But now I feel that now, being infertile and having to seriously work for children, that we have some sort of inherent responsibility to be somehow more responsible about procreation. I mean, I have always felt that, but I feel like our choices are watched so much more carefully now. And that bothers me.
We are not on the streets. We figure out a way to put food on the table, to pay the bills. We scrape by. Will we be able to pay for our childrens' college? Probably not. Will we be running away for big vacations every summer? Doubtful. But I didn't get to either.
But is it fair to bring another child into our fairly financially challenged life? I honestly don't know...
Saying that we do save them, that I get the job I want, and that we can use those embryos before the end of the year to avoid further storage fees. Saying ALL THAT COMES INTO LINE.
I don't know if I can do it. We always wanted more than one child. 2 would be awesome. Siblings. We both have siblings - we never imagined an only child. It's nearly incomprehensible to us.
But I really don't know if I can do it. I loved being pregnant - LOVED it. I would love to be pregnant again. But we DEFINITELY cannot afford for me to be on bed rest for months again.
I am scared of twins. I wanted them originally, but with a child already here, the idea of twins absolutely terrifies me. I feel so overwhelmed already. I love P, love him TO DEATH, but I can't get the hang of managing work, baby, and home. How the hell can I do it with another child or two? I know, I know, you figure it out. I know that. I do. But transferring embryos we know to be genetically normal definitely raises the chances for multiples. And OMG how do you all do it?
If we can't pay for the embryos, we will donate. And then perhaps tackle another fresh cycle...somehow. With new sperm...
It seems sperm daddy is no more. We must have gotten the last of the vials, and we couldn't afford to store what was left. Oh, well. I guess. The trials of IF are bizarre.
So what is next? What is meant to happen will, so we say so often to comfort ourselves. We use it when we can't say what we want...which is IT'S NOT FAIR or something along those lines as though we are five years old.
It feels as though Fate or whatever is conspiring against us. Hubby losing his job, Sperm Daddy being no more. As so much of our lives, the dice have been tossed. They are flying toward the end of the craps table. We are holding our collective breath, waiting to see if they land the way we pray...