It's Wednesday, and I managed to get a post (mostly) ready on some long calls at work today...one that has been floating around inside me for quite some time...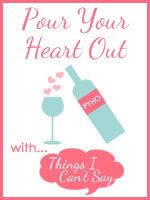 *Disclaimer - I LOVE my child, more than anything in the world. I am not complaining.
There are days I want to tear my hair out. There are days I JUST WANT TO SLEEP. There are days I want a housewife. That I want to BE a housewife. There are days I am terrified of this journey called Motherhood.
There are days I wonder "What the HELL were we thinking?"
I mean, really, we thought we could be PARENTS???
Actually, I think the issue is more mine. Hubby has not faltered once. I think he has found his calling. I feel like an oaf so many days. I feel as though I don't know how to interact with my son. Like I should be doing more.
I feel like I never have time to myself. But the thought of leaving them alone and going to do something for myself feels wrong.
I put him down to sleep in his cradle, feeling like I need to get him used to sleeping on his own. And then I lay on the edge of the bed, arm dangling so I can hold his hand.
Right now mothering is all about needs. It's pretty basic, right? Umm, no.
And realistically, this is the EASY time! Right? OMG, soon there will be crawling. And then talking. And school and "Mommy mommy mommy". And teaching right from wrong. And OMG a TEENAGER. GAH!
I know it's a one day at a time thing. I know that. But I am so exhausted. Sometimes I wake up with him in the bed with me and have no recollection of getting him out of the cradle! I wonder how I ever thought I was ready for this!!! HA!
And yet, I know, somewhere deep inside as I cuddle him after work, or wake up to him snuggled up to me, that we will figure it out as we go along. That's how parenting works.
And the thoughts of, "When can we do this again?" ride heavy on my heart...but that's a topic for another week.